Launch X431 V+ HD3 Wifi/Bluetooth Heavy Duty Truck Diagnostic Tool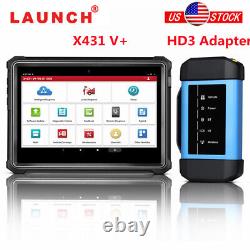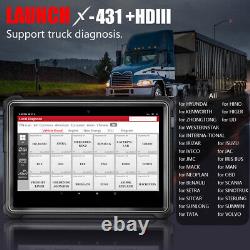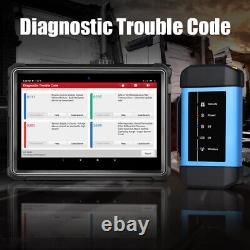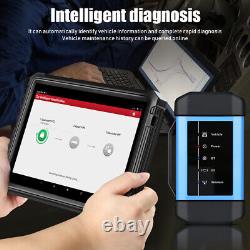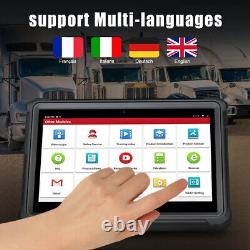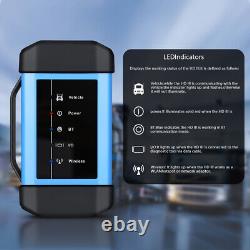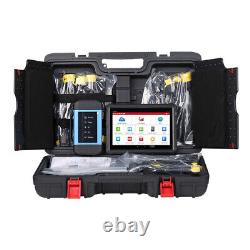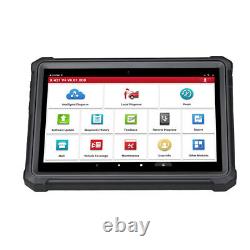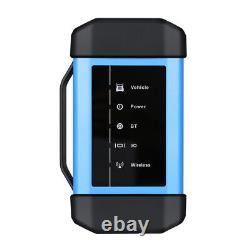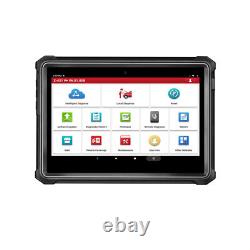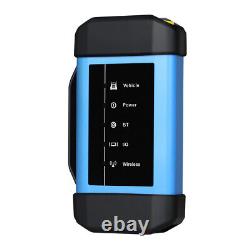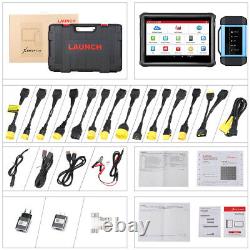 Instead of sending back directly without permission, thank you! Original Launch X431 V+ HD3 Wifi/Bluetooth Heavy Duty Truck Diagnostic Tool.
Launch X431 V+ HD3 is a modified version of the multi-brand scanner Launch X-431 Pro which, in its new edition, received a more powerful tablet and a diagnostic function for heavy duty vehicles. The device includes all the advantages of the Pro series and is presented with advanced diagnostic algorithms that allow you to quickly and deeply test the car. The complete set HD - is intended for trucks diagnostic.
Launch X431 V+ HD3 is a brand new advanced automotive fault diagnostic tool based on Android system. It passes on Launch advantages in automotive fault diagnostic technology, such as wide Car and Truck model coverage, powerful function, abundant special function and accurate test data, etc.
X-431 V+ and HD3 achieves full diesel truck model and full system fault diagnosis through the Bluetooth communication between Data Link Connector (DLC) and smart mobile terminal. Host machine and diagnostic connector adopt Bluetooth connection, making diagnosis more convenient. 34 truck brands software, support more than 60 truck models.
Moreover, the software is being continuously developed. Industrial shockproof design is perfect for the working environment in repair shops. Various configurations are available for selection.
Full comprehensive diagnostic software functions. Software based on Android, matching with more diagnostic hosts. In the state of networking, it can automatically identify vehicle information and complete rapid diagnosis. It can also check the history record of vehicle maintenance online, which is the first in the industry. The self-developed and patented IM remote diagnosis technology can be quickly accessed remotely through terminals such as mobile phones, tablets, computers, etc.
And the network broadband and system resources occupation rate is low. In the process of using the vehicle and function abnormalities under special circumstances, you can feedback the problem to Yuanzheng Company, and there will be special technicians to track and handle it. More than 1600 models, more than 10,000 GB of maintenance database, including online video, circuit diagram, maintenance manual, maintenance cases, operation skills, etc. Online inquiry at any time, can also provide detailed fault code help, improve diagnostic efficiency.
When in a network-free environment, intelligent diagnosis cannot be used. At this time, traditional diagnosis can be selected, and the vehicle and vehicle models can be manually selected for vehicle fault detection.
Record the local vehicle maintenance record, you can check the vehicle record that the machine has diagnosed, and you can quickly enter the system of the vehicle for detection when it is diagnosed again. Personal data center, including my report, my connector, diagnostic connector connection management, connector activation, firmware repair, personal information, modify user password, settings, etc.
X-431 PRO 3S+ commercial vehicle diagnostic equipment. Engine diagnosis: support Chaochai, Dachai, Laiyang Power, Quanchai, Shangchai, Weichai, Xichai, Yangchai, Yuchai, Yunnei Power, Cummins, Xinchen Power, Chaochai Xinfeng, Great Wall Xinfeng, Doosan, Huayuan Lai, Platinum, Isuzu and other engine systems.
Support Cummins natural gas, Nanchong natural gas, Shangchai natural gas, Weichai natural gas, Xichai natural gas, Iveco natural gas, Yuchai natural gas, heavy gas natural gas, Chaochai natural gas, Yunzhong natural gas system, etc. Support Guangxi Sanli tail gas post-treatment, Tenneco post-treatment, Kailong post-treatment, Tianlan DCU, Bosch post-processing system diagnosis, etc. Support Chaochai calibration, Dongfeng Renault calibration, Cummins calibration, Shangchai calibration, Weichai calibration, Xichai calibration, Yuchai calibration, heavy truck calibration, Yangchai calibration, etc. Support Bosch brush writing, Nanyue single pump brush writing, Bosch bottom layer brush writing, natural gas brush writing, electric brush writing, Delphi brush writing, China National Heavy Duty Truck brush writing, Tenneco DCU Wait. WABCO ABS, Delphi ABS, Knorr ABS, Bosch ABS, Komi ABS, Localized ABS (liberation), Wanan ABS, SABS, Asia Pacific ABS, Hongding ABS, Wanan ABS (liberation), Yuan Feng Qingqi ABS, Wanan Qingqi ABS, Ford ABS, Wandu ABS, Jingxi Heavy Industry ABS, etc.
Supports dozens of engineering machinery vehicle system diagnostics. China National Heavy Duty Truck. How to Activate X431 HD3 & Download Software. If you had a diagnostic tool of 12V passenger car configuration and intend to extend the diagnostics of commercial vehicles, follow the steps described below to activate the HD III. Please make sure that the diagnostic tool is properly connected to the Internet before proceeding this step.
Launch the application, and log in the system using the existing user account of. Passenger Vehicle Configuration, and then tap "Personal Center (or)" -> "Activate VCI (or "Activate Connector). Input the Product S/N and Activation Code, which can be found in the supplied Password Envelope, then tap "Activate" to activate the HD III. Tap "Update" to enter update center, tap "Update" to download and install the diagnostic software of Commercial vehicles. After the software download is complete, a new "Heavy-duty" tab will appear on the Diagnostic main menu screen. Launch X431 V+ HD3 Software list. 1 X431, USA FORD Diagnostic Software diesel.
2 After the X431, heavy card processing system diagnostics software. 4 Benz heavyduty diagnostic software.
5 Bosch diesel diagnostic software. 7 China heavyduty diagnostic Software. 8 Cummins heavyduty diagnostic software.
11 FAW Liberation diagnostic software. 12 Foton Auman diagnostic software. 15 Hyundai heavyduty diagnostic software. 16 Isuzu heavyduty diagnostic software. 17 Iveco heavyduty diagnostic software.
18 JAC heavyduty diagnostic software. 19 Mack heavyduty diagnostic software. 21 OBD heavyduty diagnostic software. 24 Volvo heavyduty diagnostic software. 25 WP diesel diagnostic software.
26 X431, Airbus diagnostic software. 27 X431, ALLISON transmission box diagnosis software. 28 X431, Ashok Rejlander the diagnostic software.
29 X431, Caterpillar heavy vehicles Diagnostic Software. 30 X431, Chai heavy vehicle diagnostic software. 31 X431, Chaoyang Diesel diagnostic software.
32 X431, construction machinery diagnostic software. 33 X431, CREDO heavy vehicle diagnostic software. 34 X431, DETROIT engine diagnostic software. 35 X431, Dongfeng commercial vehicle diagnostic software. 36 X-431, Dongfeng Yufeng diagnostic software.
37 X431, Freightliner heavy-duty truck diagnostic software. 38 X431, full diesel diagnosis software. 39 X431, HD ABS system diagnostic software. 40 X431, hd_goldendragon diagnostic software. 41 X431, hd_international vehicle diagnostic software. 42 X431, HD_TATA diagnostic software. 43 X431, hd_western_star vehicle diagnostic software. 44 X431, heavy truck presentation software.
45 X431, heavy vehicles Jiangling diagnostic software. 46 X431, IRISBUS heavy vehicle diagnostic software. 47 X431, IRIZAR heavy vehicle diagnostic software. 48 X431, NEOPLAN heavy vehicle diagnostic software. 49 X431, Renault diagnostic software for heavy vehicles.
50 X431, SETRA heavy vehicle diagnostic software. 51 X431, SITCAR heavy vehicle diagnostic software. 52 X431, Stannic bavin diagnostic software. 53 X431, Sterling heavy vehicle diagnostic software.
54 X431, Sunlong bus (SUNLONG) diagnostic software. 55 X431, sunwin bus (SUNWIN) diagnostic software. 56 X431, UD Trucks 2F Nissan Diesel Diagnostic Software. 57 X431, Yang Chai engine diagnostic software. 58 X431, Zhongtong bus (ZHONGTONG BUS) diagnostic software.
59 X431, BONLUCK diagnostic software. 60 X431, HD_KENWORTH deagnostic software. Launch X431 V+ HD3 FAQs.
1 Whether the VCI is properly connected. 2 Whether the vehicle ignition switch is ON. 3 If all checks are normal, send vehicle year, make, model and VIN number to. Failed to enter into vehicle system? 1 Whether the vehicle is equipped with the system.
2 Whether the VCI is correctly connected. 3 Whether the vehicle ignition switch is ON. 4 If all checks are normal, send vehicle year, make, model and VIN number to. Us using Diagnostic Feedback feature. 1 Please turn off the screen while X-431 V+ keeps idle.
2 Set a shorter standby time. 3 Decrease the brightness of the screen. 4 If WLAN connection is not required, please turn it off.
5 Disable GPS function if GPS service is not in use. How to handle when you encounter "Insufficient storage space"? If this happens while downloading the diagnostic software, please proceed as.
Get your X-431 V+ username and password ready. Password, please dial our after-sales support center hotline to retrieve it with. Reset the X-431 V+ to the default factory settings (For details, please refer to Item 5 in this Chapter). Tap "Settings" -> "WLAN", slide the switch to ON and then choose the.
Desired WLAN network to connect. After the installation is complete, launch the application and login with your. Tap"Update" to download the diagnostic software. Note: For new App, the software structure and storage space occupied by the vehicle. Software have been optimized so as to avoid the occurrence of insufficient storage.
How to reset X-431 V+? Resetting may cause data loss. Before doing so, please make sure important data. And information has been backed up. Do the following to reset X-431 V+. Tap "Settings" -> "Back & Reset". Tap "Clear all data" to start resetting until the tool automatically reboots.
The diagnostic application is failing. Press the Home key on the tool. Select the application name from the Apps list. Select "Force Stop", and then press "OK" to confirm.
Select "Clear Data", and then press "OK" to confirm. CPU: 1.4GHz quad core. Operating system: Android 7.1.
Storage: 16GB, support 128G expansion. Display: 10.1-inch capacitive screen. Camera: 5 million pixels behind. Weight: about 0.50 kg. Working temperature: -10 ° C 50 ° C.
Communication method: USB+ Wi-Fi+ Bluetooth. Launch X431 V+ HD3 Package includes.
1pc x X-431 V+(V3.0) host. 1pc x PAD4HD- Type II OBD-9 X431 diagnostic connector. 1pc x X-431 HD_III_VCI diagnostic kit Business Edition (RM08).
1pc x X431 PAD IV HD-BENZ-14 / Mercedes 14PIN diagnostic connector. 1pc x X431 PAD IV HD-CAT-9 / Carter 9PIN diagnostic connector. 1pc x X431 PAD IV HD-HYUNDAI-16 / Modern truck 16PIN diagnostic connector. 1pc x X431 PAD IV HD-IVECO-30 / In Victoria Ho 30PIN diagnostic connector. 1pc x X431 PAD IV HD-IVECO-38 / In Victoria Ho 38PIN diagnostic connector.
1pc x X431 PAD IV HD-MAN-12 / Man 12PIN diagnostic connector. 1pc x X431 PAD IV HD-MAN-37 / Man 37PIN diagnostic connector. 1pc x X431 PAD IV HD-MITSUBISHI-12 + 16 / Fuso 12 + 16PIN diagnostic connector. 1pc x X431 PAD IV HD-OBD-16 diagnostic connector. 1pc x X431 PAD IV HD-OBD-6 diagnostic connector.
1pc x X431 PAD IV HD-RENAULT-12 / Renault 12PIN diagnostic connector. 1pc x X431 PAD IV HD-VOLVO-8 / Volvo 8PIN diagnostic connector. 1pc x Heavy truck diagnostic X431 PAD4HD mainline. 1pc x Adapter, 5V/2A, American Standard (Lenovo plate supporting). 1pc x X431 PIN envelope.
1pc x X-431 V+ HD3 English quick start. 1pc x X431, PRO3S+, B, USB, Micro, USB. 1pc x Clipper fuse 520mm. 1pc x Lighter fuse 630mm. 1pc x X-431 Power supply.
I hope you can understand and cooperate with us. · Item will be posted within.
E appreciate your business, if you are satisfied with our service, please. We want all customers to be happy. Send item to your Confirmed. If you have any questions, please.
We have always been doing our best to provide the best service and reliable products. We would be very glad to help you.
We would try our best to reply to your emails as soon as possible, however, due to high volume of daily incoming emails and time zone difference, we may not be able to reply your emails immediately. Below shows the online service time table. The green area show the time you can get our respond immediately.
This item is in the category "eBay Motors\Automotive Tools & Supplies\Diagnostic Service Tools\Other Diagnostic Service Tools". The seller is "obd2diag" and is located in this country: US. This item can be shipped to United States.
Brand: LAUNCH
Camera: 5 million pixels behind
Communication method: USB+ Wi-Fi+ Bluetooth
Country/Region of Manufacture: China
CPU: 1.4GHz quad core
Display: 10.1-inch capacitive screen
Host Size: 264x210x30 (mm)
Main Features 1: Wireless Bluetooth Diagnosis
Main Features 2: Support various car models
Main Features 3: Industrial shockproof design
Main Features 4: Various configurations are available for selection
Main Features 5: Full comprehensive diagnostic software functions
Main Features 6: Wide diagnostic software coverage.
Manufacturer Part Number: SP184-C
Memory: 2G
Model: X431 HD III
Modified Item: No
Non-Domestic Product: No
OBD Interface: OBDII
Operating system: Android 7.1
Screen resolution: 1280×800
Storage: 16GB, support 128G expansion
Supported System: TPMS
Type: Heavy Duty Truck Diagnostic Tool
Update: 2 Years Free Update Online
Vehicle Type: Heavy Duty/Commercial
Warranty: 1 Year

---