Gym1 Deluxe Doorway Gym Pull-Up Bar, Heavy-Duty Home Gym Core Unit Offers a Wide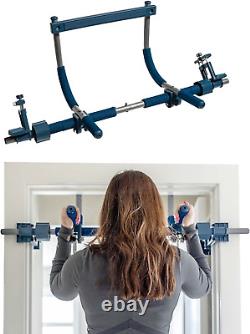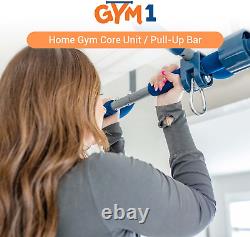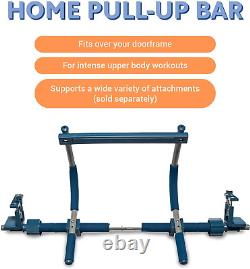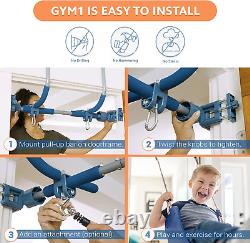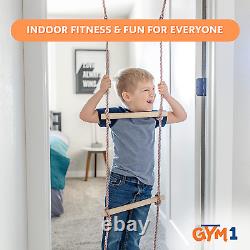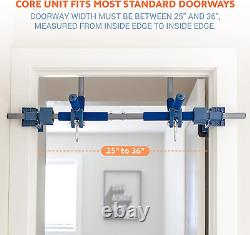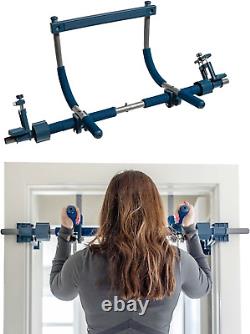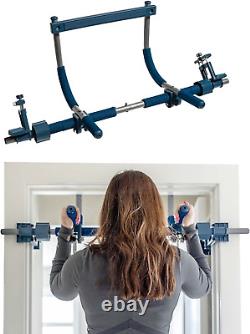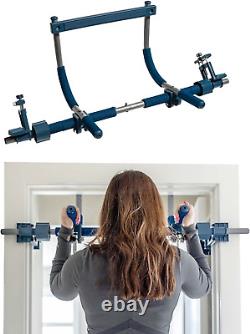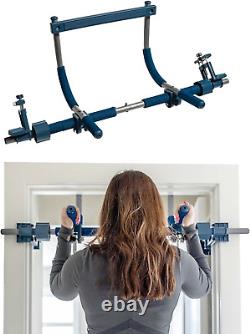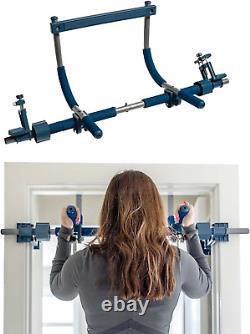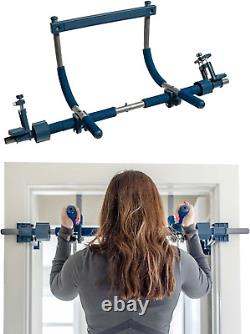 Gym1 Deluxe Doorway Gym Pull-Up Bar, Heavy-Duty Home Gym Core Unit Offers a Wide Range of Movements for Strength Training and Core Cardio Exercise, Easy to Install, Safely Supports up to 300 Pounds. Strong and safe: Fully tested for safety and certified to ASTM standards, the Gym1 doorway gym pull-up bar is capable of supporting up to 300 pounds. Total home fitness: This over-the-door unit is multifunctional. Use it for hanging chest workouts, back workouts and crunches. Bring it to the floor for use as a push-up stand, tricep dip station, or sit-up equipment.
Quality materials: The Gym1 pull-up bar is constructed from professional grade steel and features six cushioned grips that prevent slipping and callous formation. Fits most doorframes: Gym1 fits any interior doorway that's between 25" and 36" wide, with standard top trim and frame thickness. Easy to install: It takes only minutes to install the Gym1 doorway gym. No drilling or hammering required.
Simply adjust the patented vise-grips to fit your doorway and then tighten the knobs. The Gym1 fitness system makes it easy to set up your own home gym or indoor playground for the kids. Our core unit is certified safe to use and can be installed without power tools. Along with the pull-up bar core unit, we offer several attachments, including: seat swings, gymnastic rings, and fabric hammocks that work great for aerial yoga or soothing sensory swinging activities. Gym1 Core Unit: Easy to Install & Use.
Hang the Gym1 core unit from the top of your doorway. Tighten the knobs to secure it in place. After installation, it's easy to add attachments or to remove the unit for storage. Gym1 is designed to easily fit most interior doorways with standard-width top trim.
Pro Grade Steel Pull-Up Bar. The Gym1 system has been safety tested to ASTM and EN International Standards. Hammock + Extensions + Handles.
Pull-Up Bar Blue Swing Rings Ladder. Pull-Up Bar Blue Swing Rings Ladder Rope Trapeze. Pull-Up Bar supports 300 lbs.
Hammock measures 86" x 60". - Swing supports 220 lbs. Swing also available in Blue. This will assist buyers with order information. Payments must be received within 3 days, otherwise product availability is not guaranteed.
Package damage claims are made directly to the carrier who assumes all the responsibilities of theft, damages, or lost. Your satisfaction is my priority.

---