Extreme Dog Fence Ultimate Pure Solid Copper Core Spool 14 Gauge 2000ft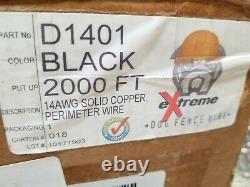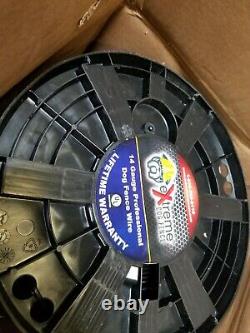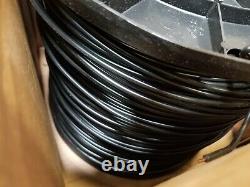 Extreme Dog Fence Ultimate Pure Solid Copper Core Spool - 14 Gauge Electric Dog Fence Boundary Wire - Rugged 44 MIL Polyethylene Insulation for All in-Ground Pet Containment Systems. Pet containment is their focus. Many of these fence kits will still perform as expected, using this thin 20 gauge (or even thinner) boundary wire.
However, that cheap wire will typically degrade prematurely in varying climates, and even break. This can leave the owner frustrated at having to go out, locate breaks or degradation points, and repair or replace that factory wire in order to keep their underground dog fence operable. Inground fence wire performance should be the most considered component of any pet fencing system. Here's why: It is the most difficult aspect of an underground dog fence to replace, as it is typically buried It is the one part of your fence that is constantly exposed to the elements (which can fluctuate regularly, and impact the wire's protective coating) A thinner fence wire adds more resistance to your electric dog fence's radio signal, potentially decreasing the maximum coverage area. EXtreme Dog Fence's team of professionals include highly-skilled pet fence manufacturing specialists. In fact, one of their technicians was on the original team that developed the Invisible Fence brand. His capable ingenuity and wisdom have been built upon and perfected with the eXtreme Dog Fence line of products. Read more eXtreme 14 Gauge Wire = 20+ Years of Performance eXtreme Dog Fence 14 gauge solid 100% copper core wire is the strongest wire that is recommended for any brand or model of underground pet containment fence.
Polyethylene jacket has been tested and improved to the point of optimal performance against: Temperature eXtremes Water Chemicals Abrasion Elongation Rodents There is NO better, longer lasting dog fence wire anywhere. Read more 100% Compatible with ALL Dog Fence Brands Replace existing wire or prepare a new home for any brand electric dog fence system, including all models manufactured by: eXtreme Dog Fence Invisible Fence Perimeter Technologies Pet Stop SportDOG PetSafe DOGTEK Dogtra Innotek High Tech Pet And ALL Others Read more Most Electric Dog Fences, Such as the eXtreme Dog Fence, Can be Configured in a Number of Different Wire Layouts.
For Example: Whole Yard Perimeter The standard for full back and front yard coverage. Your twisted wire runs from your transmitter and/or surge protector out to where your boundary loop begins and ends. Each end of twisted wire splices into the boundary wire ends in a one-to-one splice relationship. This creates a closed circuit with the transmitter. Front or Back Pinch Enclose your front or back yard, but allow your pet(s) access to the house without receiving a correction when crossing the door's threshold. Run your wire from the transmitter, around the desired yard. When you reach the other side of the house, (rather than bringing the wire across that threshold), continue to run the wire around the other side of the house, tight enough to prevent access to that yard. Continue running your wire back to where you started, and back to the transmitter. One Side Only Create a barrier on only one side of your yard and still complete a closed loop with your transmitter. Run your wire in a rectangle layout (with rounded corners), keeping a minimum 3' separation between the run up and the run back.
Then splice the two wire ends to your twisted wire, on a one-to-one relationship. The other end of your twisted wire will run back and connect to your transmitter. Existing Fence Complement your existing fence by preventing jumping or digging. Using a vertical'double loop' layout, you run your wire from the transmitter, along the bottom of your existing fence. At the end of the physical fence, you run your wire up the side and then back along the same path, but at the top, and back to the transmitter.
The wire separation needs to be a minimum of 3 feet, in order to prevent correction cancelation. 2000 Feet of 14 Gauge /. 044 Polyethylene Protected, Pure Solid Copper Core Wire that is UV Resistant, Direct Ground Burial Rated and of the Highest Quality Available ANYWHERE! EXtreme Dog Fence Maximum Performance Wire is Compatible with ALL Brands of Electric Dog Fence, Including PetSafe, Perimeter Technologies, Invisible Fence, SportDOG, Dogtra, Pet Stop, and ALL Others. The Highest, Most Durable Polyethylene Jacket Provides the Greatest Protection Against Heat, Cold, Water, Moisture, Abrasion, Chemicals, Elongation and Rodents Better than ANY Competitor's Wire.
American Made: eXtreme Dog Fence Brand Dog Fence Perimeter Wire is Proudly Manufactured in the USA. The Copper Core is Solid Copper Straight Through (Not Copper-Clad Aluminum). #173 in Dog Wireless Fences. And we will work with you to resolve it to your satisfaction. The item "Extreme Dog Fence Ultimate Pure Solid Copper Core Spool 14 Gauge 2000ft" is in sale since Monday, July 27, 2020.
This item is in the category "Pet Supplies\Dog Supplies\Training & Obedience\Electronic Fences". The seller is "offroadarsenal" and is located in Las Vegas, Nevada. This item can be shipped to United States.
EAN: Does not apply
MPN: 11095390
Brand: Extreme Dog Fence
Pattern Name: 14 Gauge Superior Fence Wire
Size: 2000 Feet (4 Acres)
UPC: 022228607441

---