Core 4x4 Track Bar Town Front Fits RAM 2500 2014-2023 Black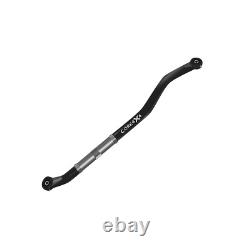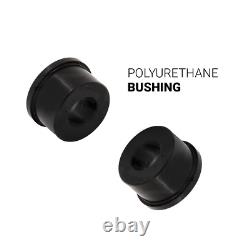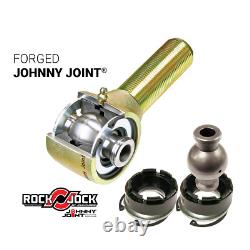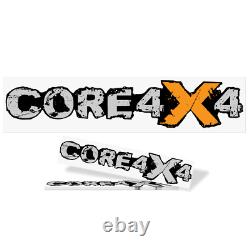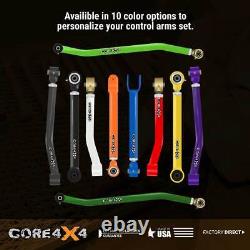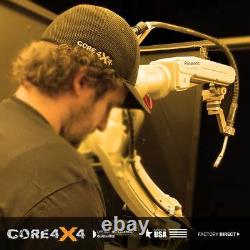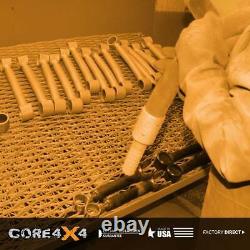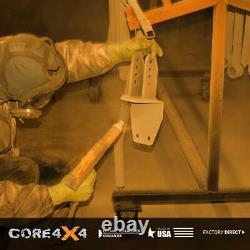 Core 4x4 Adjustable Front Track Bar provides fine-tuned adjustment to center axle for proper alignment and increase articulation. All our trackbars are built with high-quality materials right here in the USA and carry our unique You manage to break it. We replace it lifetime replacement guarantee. Centers Front axle for proper alignment. Designed for the Front suspension position.
Powder Coat finish with a zinc primer for maximum durability and corrosion resistance. 1.25 x 12 TPI threads provide strength and fine-tune adjustability. Compatible with 0" - 8" lift heights. Available in 10 color options. LIFETIME GUARANTEE - MADE IN USA.
QUALITY CORE 4x4 CONTROL ARMS - BUILT RIGHT HERE IN THE USA. Town Series Adjustable Track Bar Compatible with Dodge Ram 2500 (2014-Present) - TWN-D-25-2014-FTB1. Designed Specifically to be compatible with Dodge Ram 2500 models from 2014 to Present, this Track Bar outperforms our competition with its robust construction, durability, and strength.
Making this an indispensable enhancement for your vehicle's suspension system for perfect alignment and a smoother ride. OD Cold Rolled Steel, the Tow Series Adjustable Track Bar is precision-machined, welded, and bent in our facility to ensure unmatched build quality. To enhance performance and longevity, this track bar features high-grade greaseable and replaceable polyurethane bushings.
These bushings offer superior resistance to wear and tear compared to traditional rubber bushings, reducing noise and vibration while providing a smoother ride. Furthermore, they're serviceable, ensuring your track bar maintains optimal performance over time. The track bar also boasts a unique adjusting sleeve, machined with left and right-hand threads, which allows for precise adjustments even while installed on the truck. This incredibly robust track bar, designed to withstand heavy use, showcases the best of American engineering at a reasonable price. As your vehicle is lifted, the axle tends to shift to one side, affecting vehicle balance and control. Our Adjustable Track Bar effectively addresses this issue, ensuring proper axle alignment across a range of lifts from 0 to 6 inches. This provides flexibility for future modifications, ensuring your vehicle's suspension performs optimally under any load or road condition. Furthermore, the adjuster sleeve features a unique combination of clamps and jam nuts to maintain alignment consistently, promoting stability and reducing undue stress on other suspension components.
This allows your vehicle to perform at its peak, whether you're on the highway or challenging off-road terrains. Durable and Made in the USA. This Town Series Adjustable Track Bar is meticulously manufactured in our facility in Orem, UT. We take pride in sourcing our materials locally and maintaining total control over the production process, ensuring our products meet the highest quality standards. The robust Cold Rolled Steel construction ensures exceptional durability and longevity.
Installation of our Town Series Adjustable Track Bar can be achieved using factory hardware, additionally for those battling with rusty or stubborn bolts we offer grade 8 replacement hardware kits ensuring a smooth installation process and enabling a hassle-free performance upgrade. Robust Cold Rolled Steel construction for unmatched strength and durability. High-grade polyurethane bushings for superior durability and vibration dampening. Unique adjustable sleeve for precise adjustments.
Designed to cater to lifts from 0 to 6 inches. Why Choose Town Series Adjustable Track Bar? Exceptional Durability: With its heavy-duty Cold Rolled Steel construction, our Adjustable Track Bar is designed to handle heavy use, ensuring superior strength and longevity. Premium Performance Upgrade: This component significantly enhances your vehicle's stability and provides remarkable off-road flexibility.
Supporting American Manufacturing: By choosing our Town Series, you are not only getting top-quality products but also supporting American manufacturing. The Town Series Adjustable Track Bar is a remarkable investment for improved on-road stability and off-road flexibility. This component is built for durability and strength. Upgrade your vehicle with our Town Series Adjustable Track Bar today to experience a substantial improvement in your driving experience. CORE 4X4's ADJUSTABLE CONTROL ARMS.
CORE 4X4's THREE SERIES SYSTEM. We take great pride in the design and manufacturing of our products, which are crafted with utmost precision at our facility in Orem, UT. We will make every effort to accommodate your request, whenever feasible. We are committed to resolving any issues and enhancing your overall experience. While we strive for perfection in every order.
If, for any reason, you find that something is not as you expected, we encourage you to reach out to us. Your feedback is invaluable to us, as it allows us to address any concerns and improve our processes. Our primary focus is on manufacturing durable control arms that excel in traversing various terrains and obstacles, while still delivering exceptional performance on the road. We meticulously construct each control arm using high-quality materials sourced from within the United States.
In recognition of our unwavering confidence in their durability, all our control arms are backed by our unique You manage to break it. Thank you for considering our products.
At Core 4x4, control arms are our expertise, and they are the cornerstone of our company. We take great pride in our unwavering commitment to quality and ensuring the complete satisfaction of our customers. Each and every one of our control arms is meticulously built right here in the United States, by our skilled team, exclusively for you. We understand the importance of budgeting for your builds, which is precisely why we offer a range of options with our control arms, allowing you to choose the series that best aligns with your needs and budget. With Core 4x4, you can be confident that you are always receiving the highest quality products for your investment, guaranteed. WHY ARE ADJUSTABLE CONTROL ARMS ESSENTIAL? The significance of adjustable control arms cannot be overstated. They provide you with the ability to easily recenter your axle, adjust pinion and caster angles, and ensure that your axle moves freely both on and off the road, without any unnecessary binding. Additionally, opting for new control arms with solid bushings can effectively address issues like death wobble, enhancing the overall performance and safety of your vehicle. WHY SHOULD YOU CHOOSE CORE 4X4 FOR YOUR CONTROL ARMS? At Core 4x4, control arms are our expertise, plain and simple. It is the foundation of our company and a source of immense pride for us. We place a strong emphasis on delivering exceptional quality and ensuring the complete satisfaction of our customers.
Every single one of our control arms is meticulously crafted right here in the United States, by our dedicated team, with your specific needs in mind. We understand the importance of catering to a variety of budgets, which is precisely why we offer multiple series in our control arm and track bar options.
This allows you to select the precise level of performance and features that align with your requirements, while always guaranteeing the best quality for your investment. When it comes to control arms, Core 4x4 is the name you can trust.
Experience the difference with Core 4x4 control arms today. At Core 4x4, control arms are our expertise and the foundation of our company.
We are driven by a passion for delivering exceptional quality and ensuring our customers' complete satisfaction. Each of our control arms is meticulously crafted right here in the United States, embodying our dedication to American manufacturing. We understand that every build is unique, and we cater to a variety of budgets.
That's why we offer three distinct series of adjustable control arms, designed to provide the best fit for your needs. The Cruise series serves as an excellent starting point for those looking to upgrade from factory control arms. These control arms provide a solid improvement in strength and durability, offering enhanced performance on and off the road. Built with our unique tapered polyurethane bushings at both ends, the Cruise series ensures reliable alignment correction and dependable control.
What makes the Cruise series even more appealing is that upgrading to the Camp series is as simple as purchasing the Rock Jock Johnny Joints separately and threading them into the control arms. This seamless transition allows you to easily elevate your control arm setup to the Camp series, unlocking even greater on-road comfort and exceptional off-road flexibility. The Camp series is tailored for those seeking the perfect balance between on-road comfort and off-road flexibility.
These control arms feature the same tapered polyurethane bushing at the fixed end, providing smooth and comfortable on-road performance. At the adjusting end, we utilize the original Rock Jock Johnny Joints, renowned for their exceptional articulation and durability. With the Camp series, you can confidently navigate various terrains while enjoying a comfortable ride during everyday driving.
For off-road enthusiasts who demand maximum flexibility, we offer the Crawl series control arms. These arms are built with Rock Jock Johnny Joints at both ends, delivering unparalleled articulation and durability. Whether conquering challenging trails or crawling over obstacles, the Crawl series control arms provide the utmost flexibility without compromising road manners. Experience exceptional performance and control in the most demanding off-road conditions. At Core 4x4, we take pride in our control arms and their ability to enhance your vehicle's performance both on and off the road.
Choose the series that best suits your needs and drive with confidence, knowing that you have the highest quality control arms in your build. Experience the Core 4x4 difference today.

---