Core 4x4 Full Heavy Duty Long Arm Upgrade Crawl Front Fits Jeep XJ Charcoal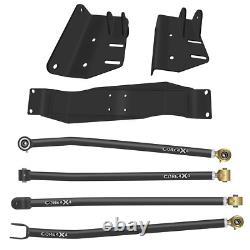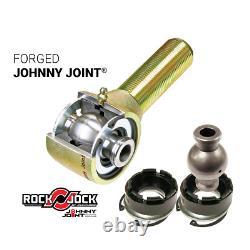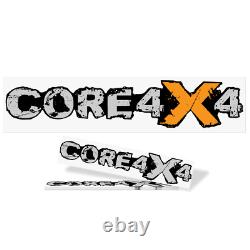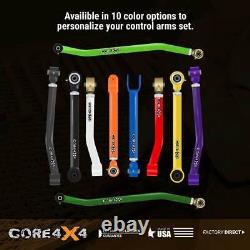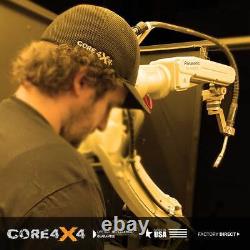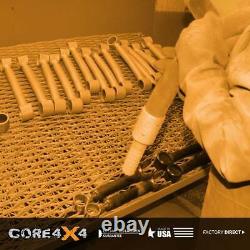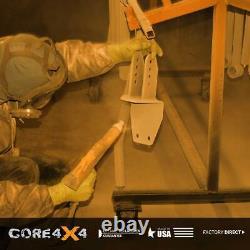 LIFETIME GUARANTEE - MADE IN USA. QUALITY CORE 4x4 CONTROL ARMS - BUILT RIGHT HERE IN THE USA.
Jeep Cherokee XJ Crawl Series Long Arm Upgrade Kit. WATCH THE FULL INSTALL VIDEO HERE! The Core 4×4 Crawl Series Long Arm Upgrade Kit for the Jeep Cherokee XJ is the next big upgrade after lifting your jeep.
When we set out to make this kit we wanted to get away from the radius style long arms that have flooded the market. Not only are they a bit of an eye sore, but having single points of failure holding your axle forward, just never sat well with us. So we decided to make a kit with true long lower. This is what really sets this kit apart. With the true long arm design you gain strength, stability, and higher ground clearance. The upper control arms tuck nicely inside the frame rail allowing more room for up travel at lower lift ranges, increased range of motion for your suspension travel, and peace of mind when you are out on the trails! Why do our Long Arm Kit? Longer arms means your suspension cycles on a longer arch giving your axle a smoother more consistent range of motion. Proper suspension cycling is what gives the best ride quality on and off the road, as well as flexibility when and where you need it.
When you lift your jeep on'short' arms the increased angle that they ride at can bind and limit your suspension cycle. A true long arm kit relocates your control arm mounts away from your axle, allowing for longer arms and proper suspension travel. Whether your jeep is a daily driver, a rock crawling weekend warrior or a little of both, long arm kits correct suspension geometry and help keep your wheels on the ground.
A long arm kit is one of the best upgrades you can do when you lift your jeep to give you on and off road stability. Core 4×4's quality can't be beat. We are very careful to only select the highest grade bushings, steel, and components in our products because we know that quality is important when you rely on our parts for your ride. Our XJ Long Arm Kit is no different.
Whether it's for daily driving use, more aggressive off roading, heavy towing, or even desert racing this kit will stand up to the test and give you the ride quality and performance that our customers have come to expect from our products! 100% Bolt on with surface area to weld if desired.
3-piece Crossmember for simple drivetrain access. 1/4 inch plate steel on brackets and crossmember. 5/16 inch wall DOM Tubing. Can be installed at as little as 2 inches of lift (great LCG option).
True long lower AND upper control arms. Optional Upgrade for axle side upper bushings. Now, the factory bushings will not limit your flexibility much with this kit, but they can fail prematurely by twisting up and on a regular basis. We offer a polyurethane replacement as an option, or select the Rock Jock Axle Side Johnny Joint Upgrade Kit to replace your factory rubber with Johnny Joints! This upgrade gives you the absolute best flexibility and durability from your axle side upper control arm mount cutting and welding are required for this option.
Our Crawl Series is our most capable parts series yet! Giving you everything our Camp Series offers and more!
Featuring the thickest tube wall and most flexibility this series is great for extreme off-roading and can take anything you can throw at it. With the tried and true Johnny Joint T at both ends this series will out flex any coil sprung suspension setup and hold up to any rock you can land your jeep on. Whether you are cruising the town, on a weekend camping trip, or crawling the hardest trails this series can do it all!
CORE 4X4's ADJUSTABLE CONTROL ARMS. CORE 4X4's THREE SERIES SYSTEM. We take great pride in the design and manufacturing of our products, which are crafted with utmost precision at our facility in Orem, UT. We will make every effort to accommodate your request, whenever feasible.
We are committed to resolving any issues and enhancing your overall experience. While we strive for perfection in every order. If, for any reason, you find that something is not as you expected, we encourage you to reach out to us.
Your feedback is invaluable to us, as it allows us to address any concerns and improve our processes. Our primary focus is on manufacturing durable control arms that excel in traversing various terrains and obstacles, while still delivering exceptional performance on the road.
We meticulously construct each control arm using high-quality materials sourced from within the United States. In recognition of our unwavering confidence in their durability, all our control arms are backed by our unique You manage to break it. We replace it lifetime replacement guarantee. Thank you for considering our products. At Core 4x4, control arms are our expertise, and they are the cornerstone of our company.
We take great pride in our unwavering commitment to quality and ensuring the complete satisfaction of our customers. Each and every one of our control arms is meticulously built right here in the United States, by our skilled team, exclusively for you. We understand the importance of budgeting for your builds, which is precisely why we offer a range of options with our control arms, allowing you to choose the series that best aligns with your needs and budget. With Core 4x4, you can be confident that you are always receiving the highest quality products for your investment, guaranteed. WHY ARE ADJUSTABLE CONTROL ARMS ESSENTIAL?
The significance of adjustable control arms cannot be overstated. They provide you with the ability to easily recenter your axle, adjust pinion and caster angles, and ensure that your axle moves freely both on and off the road, without any unnecessary binding. Additionally, opting for new control arms with solid bushings can effectively address issues like death wobble, enhancing the overall performance and safety of your vehicle. WHY SHOULD YOU CHOOSE CORE 4X4 FOR YOUR CONTROL ARMS? At Core 4x4, control arms are our expertise, plain and simple.
It is the foundation of our company and a source of immense pride for us. We place a strong emphasis on delivering exceptional quality and ensuring the complete satisfaction of our customers. Every single one of our control arms is meticulously crafted right here in the United States, by our dedicated team, with your specific needs in mind. We understand the importance of catering to a variety of budgets, which is precisely why we offer multiple series in our control arm and track bar options.
This allows you to select the precise level of performance and features that align with your requirements, while always guaranteeing the best quality for your investment. When it comes to control arms, Core 4x4 is the name you can trust. Experience the difference with Core 4x4 control arms today. At Core 4x4, control arms are our expertise and the foundation of our company. We are driven by a passion for delivering exceptional quality and ensuring our customers' complete satisfaction. Each of our control arms is meticulously crafted right here in the United States, embodying our dedication to American manufacturing. We understand that every build is unique, and we cater to a variety of budgets.
That's why we offer three distinct series of adjustable control arms, designed to provide the best fit for your needs. The Cruise series serves as an excellent starting point for those looking to upgrade from factory control arms. These control arms provide a solid improvement in strength and durability, offering enhanced performance on and off the road. Built with our unique tapered polyurethane bushings at both ends, the Cruise series ensures reliable alignment correction and dependable control. What makes the Cruise series even more appealing is that upgrading to the Camp series is as simple as purchasing the Rock Jock Johnny Joints separately and threading them into the control arms.
This seamless transition allows you to easily elevate your control arm setup to the Camp series, unlocking even greater on-road comfort and exceptional off-road flexibility. The Camp series is tailored for those seeking the perfect balance between on-road comfort and off-road flexibility. These control arms feature the same tapered polyurethane bushing at the fixed end, providing smooth and comfortable on-road performance.
At the adjusting end, we utilize the original Rock Jock Johnny Joints, renowned for their exceptional articulation and durability. With the Camp series, you can confidently navigate various terrains while enjoying a comfortable ride during everyday driving.
For off-road enthusiasts who demand maximum flexibility, we offer the Crawl series control arms. These arms are built with Rock Jock Johnny Joints at both ends, delivering unparalleled articulation and durability. Whether conquering challenging trails or crawling over obstacles, the Crawl series control arms provide the utmost flexibility without compromising road manners. Experience exceptional performance and control in the most demanding off-road conditions. At Core 4x4, we take pride in our control arms and their ability to enhance your vehicle's performance both on and off the road. Choose the series that best suits your needs and drive with confidence, knowing that you have the highest quality control arms in your build. Experience the Core 4x4 difference today.

---